We 're back on the road after a quick stop at Tasty's, a restaurant off the Trans Canada Hwy, outside of Virden, MB, which is just west of Brandon. And yes, they serve a darn tasty burger.
We didn't leave Kenora, ON, until close to 10 a.m. today. There was an unexpected delay at Tim Horton's, what with a burnt bagel with no butter, a bagel not toasted enough, forgotten orange juices, and questions from the cashier about the size of our travel mugs. She didn't know whether to charge us for medium or large teas. Why does tea come in different sizes? You only ever get one tea bag.
The drive through Manitoba has been surprisingly flat; for some reason, I thought it didn't get flat until Saskatchewan. Shows what I know. Though I have to say that blasting Winnipeg's 92.1 CITI FM radio station helps with the monotony of the landscape, especially when we're grooving to the "Rock Block," which features tunes from the likes of ACDC, Aerosmith, and Scorpion.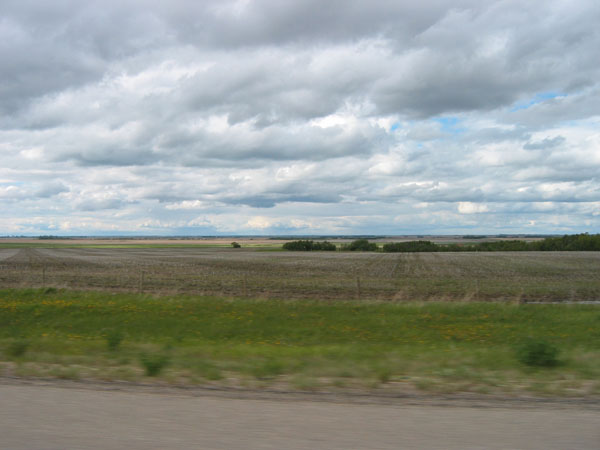 Anyway, here's a quick recap of what Trevor and I have noticed/seen/experienced since leaving Kenora:
we crossed into Manitoba at 10:53 a.m. Doing this made it feel like we were really getting somewhere. It took so long to get out of Ontario.
we crossed the longitudinal centre of Canada at 11:59 a.m.
it feels weird to be the only Ontario plates in Manitoba. I'm sure there are others, but we haven't seen any. And since leaving Toronto, we haven't seen another car with bikes on the roof.
we decided to drive through downtown Winnipeg instead of going around, and the city is really quite beautiful. Trevor wants to check out the parliament buildings on the way home as they were built like a pagan temple by masons. Oh, and we missed the intersection of Portage and Main.
2 toilet bowls about 20 feet off the highway…being used as planters
tons of flooding on either side of the highway. The picture below doesn't adequately represent it, but the land was covered in water. We thought this was maybe normal (?) until we heard on the radio that a crazy rainstorm hit on the weekend, with over 500 houses severely flooded, as well as a few roads and a highway. Estimated damage is $1,000,000.
what looked like a circus caravan in the slow lane on the highway. This is what Trevor and I can agree on: 1. there were four people in their early twenties – 3 men and 1 woman. 2. one man was really tall, like close to Guinness Book of World Records tall. 3. the first guy in line was pushing a shopping cart. And then this is where we differ: I thought the woman was pushing a baby carriage; Trevor thought it was another shopping cart. I thought the tall man was shirtless; Trevor thought he wore a tank top. I also thought the shorter guy was shirtless; Trevor couldn't recall. I guess we wouldn't make very good eyewitnesses.
radio show signs: they're all along the highway telling drivers what stations to tune into to get the local radio show. But our beef is, how come there are no signs telling us how we can get CBC Radio? Shouldn't this be a given? I mean, it's our national broadcaster. We're left fiddling with the dial.
3:57 p.m.
Ah! We just saw a bike on top of a car, with a kayak, too. Illinois plates. Oh! And minutes later we spotted a bicyclist loaded down with bags, with a cart attached to the back of his bike.
We were racing the train below when we were in Saskatchewan. (Okay, not really.)