It's been a busy few days. We're in Vancouver city right now, and I just realized that I never posted much about Tofino. So here goes…
Basically, it felt like a whirlwind. Well, actually the entire trip has felt that way so far. I think it's because we're constantly on the move. We stayed in Tofino for 3 nights – did a bunch of rainforest hikes. One of the coolest ones was at the Cathedral Grove in Port Alberni, which is actually on the way to Tofino. It's weird – all the rainforest trails have boardwalks, and we're used to hiking on actual…ground. However, I understand that the boardwalks are there in order to preserve the rainforest. You don't want humans stomping on precious plants and insects.
It was Trevor's turn to peek around a tree: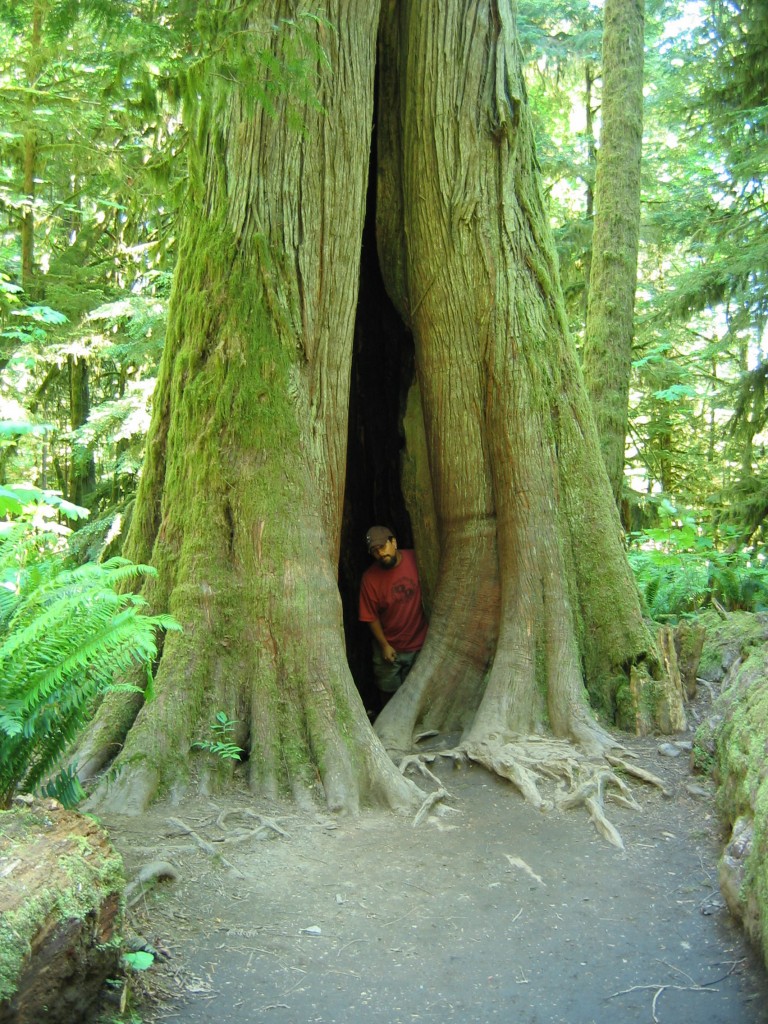 We checked out South Beach one day. The tides were really low, so we were able to hunt for critters. That's what I'm doing below. Later in the day, this whole area was covered in water.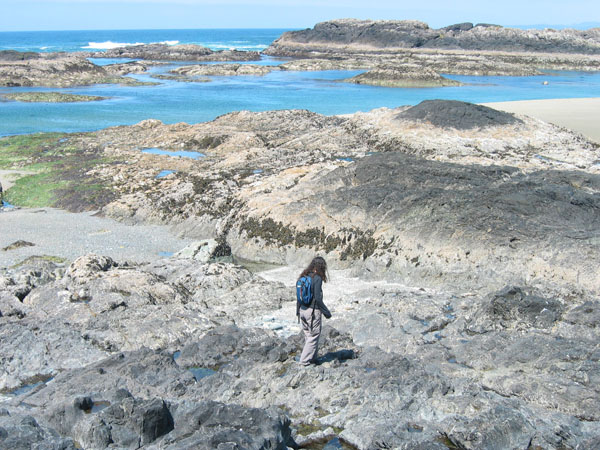 Then, we went to Long Beach, which is 16 km long. It's a mecca for surfers. Trevor tried to get some photos of them; they're just tiny spots on the waves.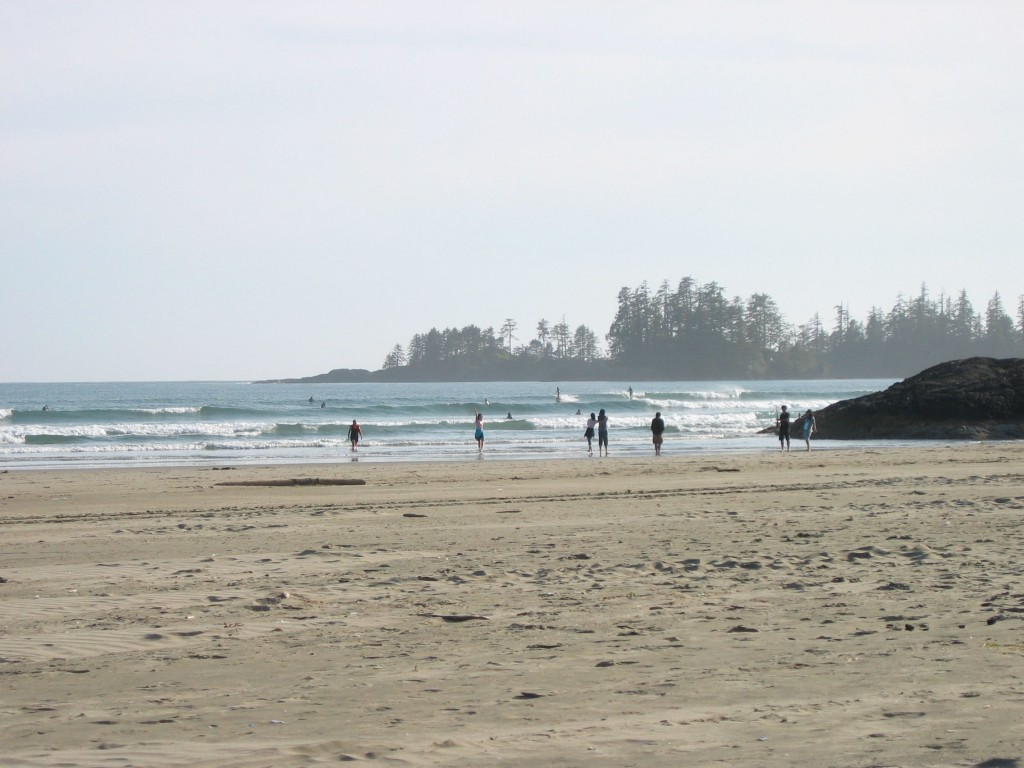 Trevor also snapped a photo of me reading the Tofino Times. It was cold on the beach, though some teenage girls were wearing bikini tops!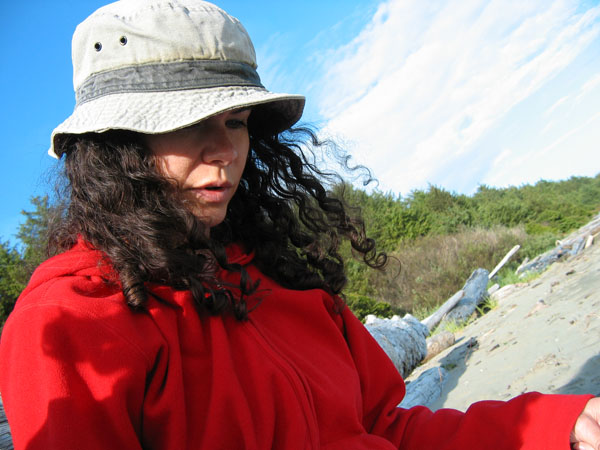 Tons of huge logs get washed up on the beach when the tide comes in. There were signs everywhere warning you to be careful! You might get squashed between logs if you're caught unaware.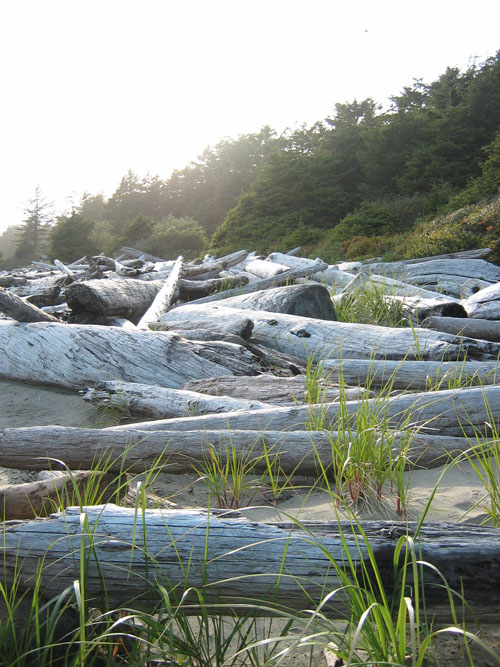 We kept hearing about how brilliant the sunset was all over Tofino, but you think we could see it? We missed it one night because I don't know what we were doing, and the next night we were at the prime-sunset-viewing-spot 45 minutes before the scheduled sun setting, but it was cloudy. Just as the sky was beginning to turn reddish orange, the sun ducked behind some clouds.
Here's me trying to stay warm while we wait for the sun to set:
Oh, Trevor really wanted to go kayaking to Meares Mountain to see a 2,000-year-old tree, so we signed up for a tour. We would've just rented kayaks on our own, but we didn't know exactly how to get to Meares Island, so guided tour it was.
The problem was that the company had one- and two-person kayaks, and Trevor and I hadn't decided if we were going to go single or not. There ended up being an odd number of people in our group, with one young woman looking panicked at the thought of kayaking on her own, so I offered to go with her. It was okay and everything, but I definitely want my own kayak in the future; you can set your own pace and don't have to worry about taking a five-second break, or worry about not keeping up with the group because the other person is taking a 60-second break.
Meares Island was cool enough, but Trevor and I have decided we won't do the group thing again; you can't take your time wandering around. There was a guide in front setting a fast pace and a guide at the back making sure we weren't dawdling. There was barely any time to snap a decent photo. It was hard to spy wildlife and neat plants because you basically had to stare down at the old rickety boardwalk. One lady actually went through a board!