When I was in high school, my best friend and I used to write what we called "our stories." (Typing that phrase now makes me think of my Grandma Dot and her devotion to Days of Our Lives.)
Basically, it went like this, we'd choose a theme: the dance, the drive-in, the date (forgive us, we were teenage girls. What else would we write about?), and then one of us would start the story. If it were me, I'd write 3 or 4 pages in the evening, leave it at a cliffhanger, and then in the morning before classes started, I'd read it to Emmalyn in DM's foyer. She'd balk at the cliffhanger, wonder how she'd write her way out of it, and then she'd do the same to me the next day. I clearly remember how excited we were to hear what the other person had written, and then being extra-excited to rush home and continue the story. We did this for years, but then it kind of petered out once we went to different universities and couldn't see each other every day.
Emmalyn has been the keeper of all our stories for the past two decades. She gave them to me a couple of weeks ago to read, and man, it's hilarious to think about what was so important to us back then. The CFNY dance? And it wasn't just one story about a dance, there were several. All of them starred the two of us, plus one of our friends who went to a different school, and of course, our current crushes. We all had aliases just in case the stories were misplaced somewhere. Looking back, everything little thing was so huge, vital, something to exclaim about: "Did so-and-so glance at us? Ohmigod. He looked this way. Is he going to ask me to dance?" Totally embarrassing, but I love to think of us back then writing away in our rooms about that kind of stuff.
The majority of the time our stories had no plot; they were more like a snapshot of some event that we thought was important. However, as we hit the older grades, we branched out. There was the Australian Outback adventure, and Emmalyn did a great story about Miss Scrimmage's Finishing School for Young Ladies, which was a riff on Gordon Korman's "The Boys of MacDonald Hall" series. That reminds me, I have a whole bunch of his most recent books to read. One of my favourites of his books is I Want to Go Home, about this boy Rudy Miller who is sent to summer camp and spends every spare minute trying to escape. It came out in 1981, and I remember thinking it was so funny and ridiculous. I must get it from the library.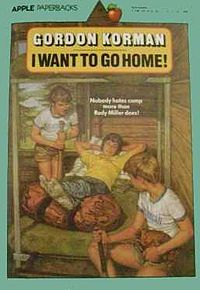 All this to say, I'd like to recapture that excitement of writing just for one person, namely Emmalyn. So when she suggested that we start writing our stories again, I was like, sign me up. I'd like to think our stories are a little more mature this time (we are in our late 30s, after all), but who knows, and who cares because we'll be the only people reading them. We can make them as embarrassing as we want!