Wow. Not much book reading happened this past week and a half. I blame it on the fact I was reading a non-fiction book. Not to say the book wasn't good…because it was, very. Lakeland: Ballad of a Freshwater Country by Allan Casey won the 2010 Governor General's award for non-fiction.
Below is a comment from one of the GG's jury members:
This book takes readers on an enchanting and enlightening journey across Canada, exploring a quintessential element of the Canadian landscape and its very soul – lakeland. With his gentle, exquisite and sometimes playful prose, Allan Casey conveys a powerful message about the value of Canada's lakes, introduces us to the people who cherish them, and offers both a celebration of and lament for these precious and oft-abused natural treasures. –Jury comment, Governor General's Literary Award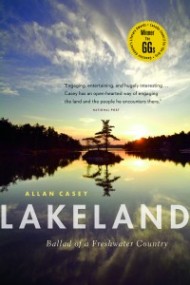 I wholeheartedly agree. The chapters in the book were dedicated to different lakes across Canada: prairie lakes (which there aren't many), maritime lakes, Ontario lakes, west coast lakes, etc. Lakeland really makes you think about how we, as humans, affect the lakes. Are we actually destroying them as we try to preserve them? It also made me yearn to explore more of Canada. I envy the author's journey across the country; he visited many little-explored areas and met all sorts of local residents. It sounds like the experience of a lifetime.
Now back to my first paragraph. No matter how good I find a non-fiction book, I can never tear through it the way I can with a fiction book. I don't find non-fiction books page-turners. With Lakeland, I'd read 20 pages, put it down, read another 20 pages the next day, and so on. This is my usual pattern with any non-fiction book.
Regardless of my inability to read non-fiction quickly, Lakeland is a Canadian gem.