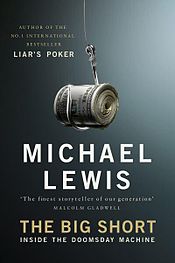 I'm halfway through The Big Short: Inside the Doomsday Machine, by Michael Lewis. It's a non-ficton book examining the events that led up to the 2008 U.S. stock market crash. It's been a bit of a learning curve as I have no background in feeder markets, credit default swaps, bond and real-estate derivative markets, sub-prime mortgages, etc. It was slow-going at first while I tried to wrap my head around all the new (to me, at least) terms and concepts.
The thing I like about this book is that the author writes it as a character-driven narrative; he doesn't throw a bunch of facts at you. He weaves them in while describing the people behind-the-scenes, what they were doing and thinking, how they were reacting.
It's a fascinating, unbelievable read. I need to finish the last 150 pages tonight; it was due at the library today!